PM+® High Performance Cold Patch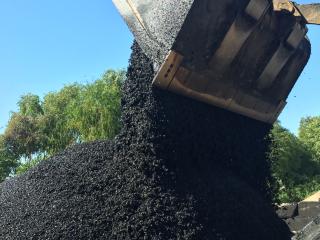 PM+® Cold Patch is premixed, ready to use and will meet or exceed any other pothole patching products on the market, we guarantee it.
Our patching material is manufactured using high-quality aggregate along with special blends of asphalt and additives to maintain superior performance over the life of the patch. Our unique blend of additives promotes adhesion, cohesion, flexibility, and workability, which prevents the customer from continuously having to patch the same damaged area. Another benefit to using our cold patch is that water does not affect it, so patching during or after heavy rains is no problem, no need to remove water prior to patching a pothole, just patch as you normally would compact and you are done. PM+® Cold Patch is DOT Approved and is the preferred choice with many agencies.
Advantages of PM+® Cold Patch
DOT Approved and Preferred
All Weather All-Season Patching Material
Superior Adhesion and Cohesion
Patch potholes filled with water
Pre-mixed Ready to Use
PM+® Cold Patch Uses
Potholes
Edge Ruts
Railroad Crossings
Utility Cuts
Level Ups
Bridge Decks
Joint Failures
Material Resources, Inc. offers PM+® Cold Patch in several ways: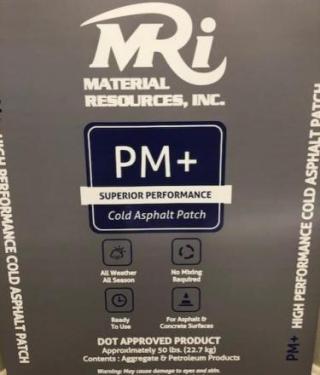 Individual 50 lb. sealed bags
Pallets containing 56 sealed 50lb. bags
Tandem and trailer loads (up to 25 tons per load) delivered
Bulk orders mixed at your location. (Minimum tonnage required)
Try It Before You Buy It!
We want our product to earn your trust, so give us a call today!
225-267-6464
Bagged mix allows you to make patches quick without calling out crews and equipment.
This is ideal for making quick emergency patches, without all the hassle and the mess. Bagged PM Plus Cold Patch can be carried in pickup trucks at all times making it fast and cost-effective for 1 man to make pothole or utility patches during daily travels. This patching material can be shipped on pallets with 56 bags per pallet. We can deliver any quantity that you may need.
Proper Install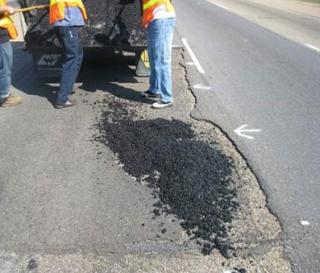 Clean Damaged Area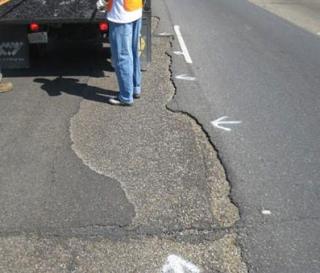 Place PM+® Cold Patch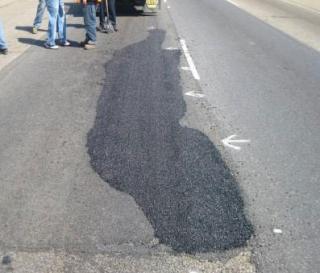 Compact! Compact!