PM+® Pavement Evaluations
Is your network gaining or loosing life each year?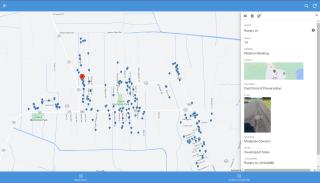 Managing your pavement network can be time-consuming and very challenging. Updating and maintaining data for an adequate pavement network is critical and allows for a proper pavement preservation plan to be developed. Don't worry we are here to help! We have various options that allow us to build a strong pavement management system with data that is customized to your unique network. This will aid in making the smartest decisions for short and long-term results while optimizing taxpayer dollars by getting the most out of your pavement life. The American Association of State Highways and Transportation Officials (AASHTO) defines pavement management as the effective and efficient directing of the various activities involved in providing and sustaining pavements in a condition acceptable to the traveling public at the lease life cycle cost.
Our plans range from data only all the way to data integrated into GIS Mapping and most importantly easy to use and implement.
Evaluations, whether yearly or cyclical will allow your agency to get the most out of your pavement network before costly rehabilitation is needed. Multiple studies have shown that every $1.00 spent on pavement preservation will save from $6.00-$10.00 or more in rehabilitation/reconstruction costs. We agree 100% with these studies, but also believe to achieve this you must choose the Right Treatment on the Right Road and at the Right Time, which can only be done by knowing the condition of your pavement network.

There are numerous applications and strategies that can be used for pavement management, choosing the right applications at the right time is very important in achieving optimal results for your road network. Visit PPRA at https://roadresource.org/ for helpful information and tools to see what track your network is heading.
Optimized Inventory of Pavement Network
Road Inspection / Evaluation ASTM D6433 Condition Assessment (PCI)
Pictures and Locations of Each Distress 
Recommendations and Budget Needs
PM+® Texture Seal
RESTORE ► PRESERVE ► PROTECT
Pavement Preservation Treatments used to defer pavement surface degradation and extend pavement surface life. Over time asphalt roads are greatly affected by numerous factors causing the quality life of the pavement to degrade. Although many elements contribute to the aging process, weather and oxidation are the main contributors and often overlooked. Weathered and oxidized pavements start to lose flexibility, resulting in surface fine loss and eventually leads to moderate or severe raveling.
Our process involves treating the distressed pavement with a rejuvenating emulsion which aids in restoring surface flexibility, while also replacing the surface fines that have been lost due to aging and oxidation. Not only can our PM+™ Texture Seal extend the service life by 3-5 years, but it also acts as a beautification process by giving the road a deep black uniform finish. This treatment should be applied when the pavement structure is in good condition with minor to moderate surface distresses such as weathering and raveling. Implementing this process into your preservation plan will help extend the quality service life of your pavement network, which generates money savings by deferring costly rehabilitation. On average lanes can be opened to traffic in under one hour.
EVERY $1.00 SPENT ON PAVEMENT PRESERVATION WILL SAVE $6.00 - $10.00 IN FUTURE REHAB COST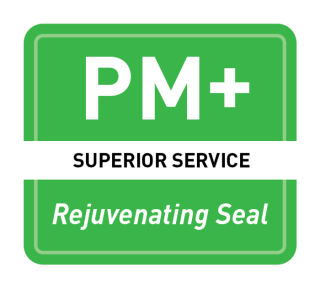 PM+® Rejuvenating Seal
Biorestor® Asphalt Rejuvenator
The heating and mixing during the manufacturing process can oxidize and age asphalt pavements prior to being placed on the roads.
BIORESTOR® made from 90%+ agricultural oils, penetrates the asphalt pavement to reverse and stop this aging while leaving a polymer coating to aid against further oxidation. This rejuvenator penetrates and becomes part of the matrix giving the pavement renewed penetration, renewed viscosity, and renewed flexibility.
Our BIORESTOR® treatment philosophy is that of stopping the small things that happen early in a pavement's life that contribute to premature aging of our pavements.
We recommend this product to be applied on new pavements within the first year as a truly proactive approach, but can also be used on pavements that are in good structural condition to prolong future deterioration, allowing you to keep good roads good.
For decades, money and action have been applied to the worst roads in our systems. Over those decades, the average value of those roads has not changed. If anything, with increased costs, higher traffic, and a lower quality of asphalt; most of our pavement networks are not as good as they were decades ago.
Advantages Using PM+ Rejuvenating Seal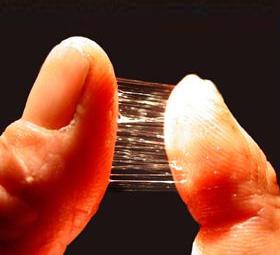 Penetrates, Protects and Renews Asphalt Pavements
Asphalt Rejuvenator with 90%+ Bio-Based Agricultural Oils
Renew Pavement Flexibility by Reducing Viscosity
Increases Penetration
Reduces Permeability, Raveling, and Cracking
Gives an Additional Service Life of 4 - 7 Years with Retreatment Evaluation
Reduces Life Cycle Cost
Quickly Penetrates into a matrix and virtually dry to touch in 20-30 minutes
APPLICATION METHODS
Turn Key Service provided by us or one of our approved Applicators
DIY - Easy to operate application equipment can be purchased for agencies with in house crews. Training will be provided.
BioPreferred
BioPreferred works with manufacturers, distributors, and large-scale buyers to increase awareness, purchase, and use of biobased products.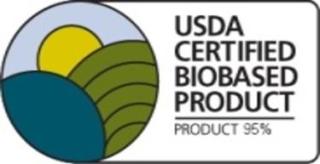 BioPreferred is a Federally-managed program that aims to increase the purchase and use of renewable, sustainable biobased products. Biobased products are defined by USDA as products that are composed in whole or in large part of agricultural or forestry materials. Biobased products may include plant, animal, or marine-based materials.
"The oxidative aging of pavements begins at the time of construction and continues throughout a pavements life. However, most aging occurs within the first 2-4 years of service life" ≈ Foundation for Pavement Preservation